The Beagle Legacy in Richland County
Beagle is an influential name in the Sidney community and throughout Richland County. Starting with the arrival of Dr. J.S. Beagle in 1909 when he opened his first medical practice and provided the community with care until his retirement in Jan. 1958. He passed away on April 2, 1959. Dr. J.S. Beagle was a driving force in Sidney; from organizing businesses to helping form Richland County. He helped organize and served as president of the following companies: Valley Hardware, Yellowstone Mercantile, Interstate Land and Cattle Company, Beagle Land and Livestock Company. In 1914 when Dawson County was divided; Dr. J.S. Beagle played a vital role in the formation of Richland County.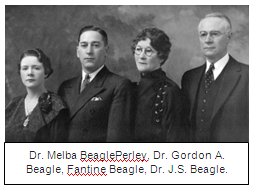 Gordon Beagle, son of Dr. J.S. Beagle, following his early education in Sidney, MT completed high school at Harvard Military School and then attended Pittsburg Dental School. He practiced dentistry in Beverly Hills, CA for several years before serving in WWII as a dentist. Gordon followed in his father's footsteps serving the Sidney community when he moved back and opened his dental practice in 1945. He retired from dentistry in 1983 and passed away in 1989. Gordon Beagle was involved in the community through running the businesses his father started, as Chairman of the Sidney Cemetery, and involved in the local Kiwanis chapter.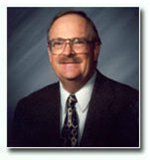 In 1979 Gordon's son, John Beagle, along with a high school friend Dale Alder opened Adler-Beagle Real Estate. Then in 1983 John took over as sole owner and changed the name to ERA- Beagle Properties, Inc.; which eventually became Beagle Properties Inc. John expanded on to his father's existing dental facility to create office space to run his real estate business and it is still the current location of Beagle Properties. John owned/operated Beagle Properties, selling real estate from 1979 to 2007 and also running several companies passed down from his grandfather. John has served his profession well. He has served several times as a director, and also President, of the Gateway Board of REATORS®, was very active with the Montana Association of REALTORS®, Eastern District Vice President for over 8 years, Montana Board of Realty Regulation, ARELLO-Association of Real Estate Licensing Law Officials, and Western District Vice President. John officially retired from real estate in January 2014 but continues to be involved in the community through Shriners, the local Masons, on the Board of the Sidney Country Club, and Current Trustee and past Moderator of People's Congregational Church.
In January 2007 John Beagle sold Beagle Properties to Sidney natives, Leif & Teresa Anderson. As the new owners of Beagle Properties, Leif and Teresa chose to maintain the established and highly regarded business name. Leif Anderson has extensive knowledge of the real estate world. He has served on the executive committee for Montana Association of Realtors as District Vice President and has been actively involved in several major development projects in our expanding community. Leif is a 5th generation Richland County resident and has lived in Sidney his whole life. Leif has been a Sidney business owner since 1985 and always involved in the community through organizations such as the Boy Scouts, Sidney Chamber, Richland Economic Development, Kiwanis, his church, and many others.
Today as Beagle Properties continues to grow and change especially with the impact the Bakken Oil Field has had on the area; we strive to uphold the strong foundation of community success that Beagle Properties was built on. With agents having experience stemming back 30 years to the previous oil boom- to new agents embarking on their real estate journey; both work hard to satisfy the needs of locals and newcomers alike. Still to this day, Beagle Properties is the most dominant real estate company in Richland County and we take pride in serving our thriving community.